The Dr. Herbert John Evans Jr. Award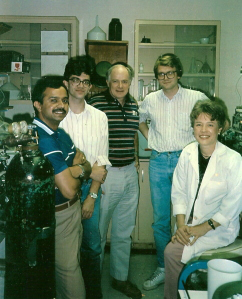 Herbert John Evans, Jr., Ph.D., was a protein chemist and enzymologist who used proteins from snake venoms to investigate biological activity in the coagulation cascade, and his protein structure/function studies led to the identification and prediction of biologically useful peptides.
Dr. Evans joined the faculty of the Department of Biochemistry in 1974 and served for 24 years until his untimely death in 1998. In his memory, his colleagues and friends established the Herbert John Evans, Jr. Award.
Each year, our faculty present an award in Dr. Evans' honor to the most outstanding senior graduate student in the Department of Biochemistry and Molecular Biology. It is hoped that the talented and conscientious student who receives the award will aspire to and excel at the same qualities of rigorous scholarship, honesty and diligence, which Dr. Evans valued.
Recipients of the Award
2021: James David Hampton
2020: Briana James
2019: Karli Ann Mockenhaupt
2018: Melissa Maciz
2017: Angela Gupta
2016: Michael Waters
2015: Jessie Yester
2014: Annamarie Dalton
2013: Thomas Gallagher
2012: Hoon Shim
2011: Abir Murherjee
2010: Tom Seegar
2009: Regina Oseyana
2008: Dayanjan Shanaka Wijesinghe
2007: Marc Cantwell
2006: JiaDe Yu
2005: Jerry Basosila
2004: Jean Lin
2003: Ryan Mitchell
2002: Yahya Al-Yahya
2001: Sarah MacKinnon
2000: Salwa Abdullah
1999: John Alsobrook